Anabolic Health Black Ginger (Men's Blood Support Formula), 307g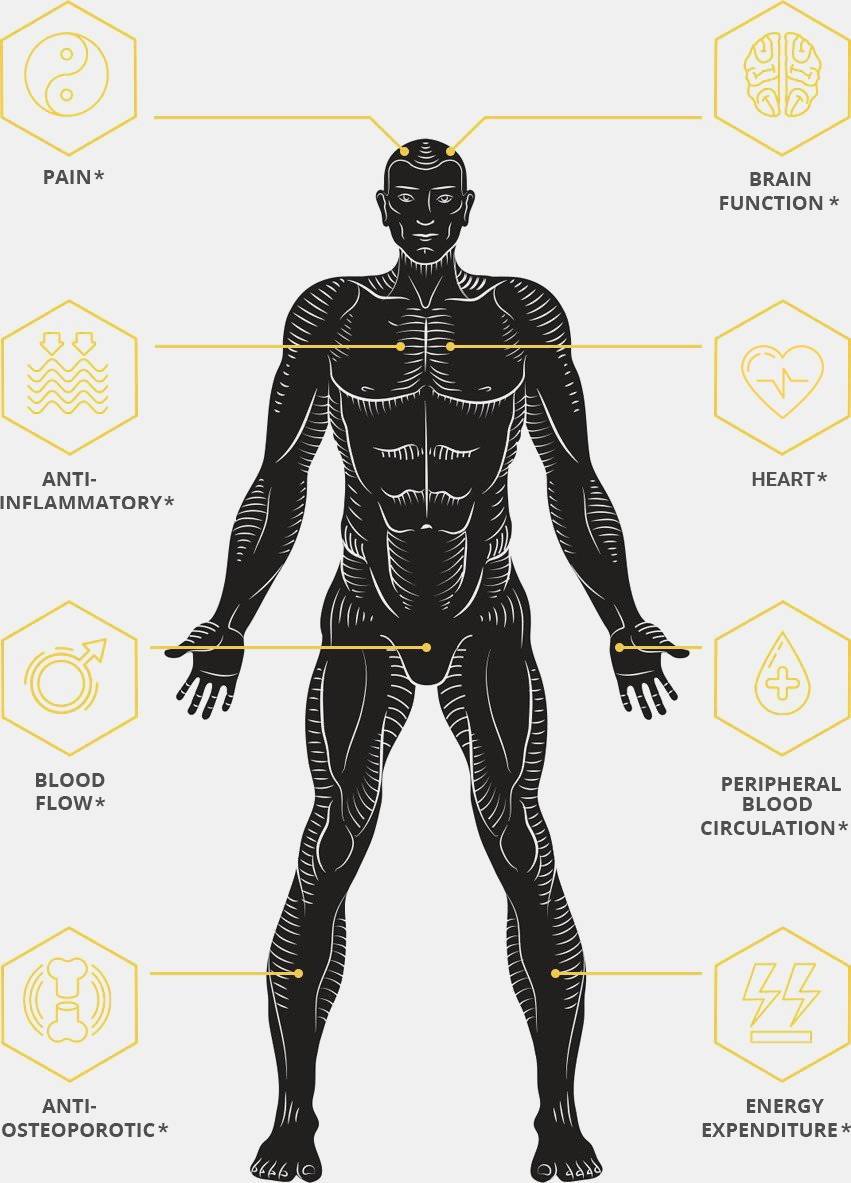 Looking To Boost Your Blood Flow Without Side Effects?
Take Black Ginger Daily To Increase N.O. Production and Blood Flow Naturally*
BLACK GINGER is a rare and powerful type of ginger that is taken as a N.O. supplement specifically for improving circulation throughout the whole body, especially in relation to the areas that matter most to men*. Such benefits may include:
Improved Blood Flow To Extremities*
Improved Overall Circulatory Health*
Rejuvenation of Venous Tissue*
Lower Blood Pressure*
Improved Body Composition*
Increased Energy Production*
These are just a few of the incredible benefits that have been studied with increased N.O. production.  Our Black Ginger product is not only 100% natural, but also contains the exact clinical dosage required to provide those benefits in an easy to use package*.
100% RESEARCH BACKED INGREDIENTS- THE FUTURE OF BLOOD FLOW SUPPLEMENTATION
Black Ginger is so much more than a simple N.O. booster, going beyond just potential blood flow benefits.
Clinical studies have suggested that Black Ginger may improve overall energy production which would be beneficial to muscle endurance and physical performance. As well as may increase handgrip strength*.
Research also showed that Black Ginger activates AMPK (AMP-activated protein kinase) as well as activates BAT (brown adipose tissues) which is the 'good' type of fat mass which is thermogenic, abundant in mitochondria (the powerhouses of the cells) and beneficial for energy expenditure*.
The research suggests positive effects in terms of improving body composition from using Black Ginger.*
A NATURAL SOURCE OF PDE5 INHIBITORS
More importantly, clinical studies have shown that Black Ginger contains natural PDE5 inhibitors which inhibit the enzyme that breaks down N.O.*
PDE5 inhibition may increase the availability of N.O. and prolong vasodilation, which is very beneficial for blood flow especially in relation to the areas that matter most to men.*
The most common PDE5 inhibitors on the market (a popular blue pill) inhibit this enzyme very strongly and may come with plenty of side effects such as back pain, vision disturbances, dizziness, flushing, dyspepsia, nasal congestion, and rhinitis.*  Black Ginger, inhibit this enzyme to a milder degree with no known side effects.*
BOOST BLOOD FLOW BY TRUSTING CENTURIES OF TRADITIONAL USE BY MEN
Research suggest Black Ginger ​may primarily work in two ways; by improving vasodilation and blood circulation (PDE5 inhibition)*, as well as by boosting the levels of feel-good neurotransmitters and their sensitivity*.
Neurotransmitters play an important role in the body. Clinical studies have suggested that Black Ginger may work as a mild anti-depressant* because the way it modulates the amounts of feel-good neurotransmitters by stimulating their function in the hypothalamus.* Keep in mind that the effects of Black Ginger are ​NOT comparable in strength to other common PDE5 inhibitors on the market (such as a blue pill) although they may work in similar ways.
Here Are More Incredible Results From Men Taking Black Ginger...
"My circulation has improved all over especially down below."
- Derek G.
"I've tried a lot of natural remedies for some minor hardness problems. But, damn! This actually works. I'm actually surprised how much it has worked. For real!"
- Auston C.
"I have been using black ginger for less than two months. It works for increasing blood flow and consistently produces. I'm grateful for this discovery."
- Mark S.
"To be honest, I have never heard of black ginger though I consider myself an amateur herbalist. And it works so well for blood circulation and it's helping with my high blood pressure. I am definitely buying again, so should you."
- Adebanjo O.
"I received mine a couple a days ago. I tried every vitamin shop and herbal store to find something similar but couldn't. My schedule is too busy to take twice a day. I take my two servings in the morning or before I go to the gym. I will tell you this, the product is unbelievable!!!!!!"
- Charles Smith.
Recommended Uses
Take 1 gram in the morning and 1 gram before bed (gram spoon included). Our product is formulated to last 30 days per bag.
You can also get an even further boost by occasionally consuming an additional dose of Black Ginger.
Nutrition Facts
Nutrition Facts
Serving Size: 1 gram
Servings per Container: 30

Amount Per Serving

% Daily Value *

100% Black Ginger (Kaempferia Parviflora) root powder
1000 mg
†

* Percent daily values are based on a 2000 calorie diet
† Daily Value not established
Note: Serving Sizes are rounded to the nearest whole serving
Additional Ingredients: N/A
Allergy Information: Gluten Free, Paleo Friendly, Vegan
Warning: Consult a health care practitioner if symptoms persist or worsen. Store in a cool, dry place.